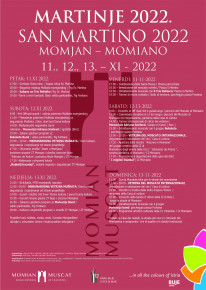 11.11.2022
12:00
Location: Pula
Martinje - San Martino
Every November, at the time when the sweet juices of young wine are born, Momjan celebrates its patron Saint. Martin. This Catholic saint is considered by European tradition to be the patron saint of winemakers and winegrowers, and new wine is baptized on his day in many countries and regions.
Momjan, a small historic town north of Buje, is no exception to this, very well known among regional connoisseurs of wine and vines. Located not far from the border with Slovenia, Momjan is an oasis of sweet muscat, resulting from centuries of synthesis of ideal soil and climate.
If we add to that that the town and its surroundings hide some of the strongest names in contemporary winemaking in Croatia, which have long been famous for their malvasias and teranes, the true scale and importance of this event becomes clear.
In tastings in wine cellars, guests are presented with a whole palette of wine riches, and they, armed with glasses, taste drops of the top wines of Northwestern Istria.
Celebration of St. Martina also brings Vetra Muscat to Momjano, an international exhibition that attracts dozens of producers of this wine from Istria, Slovenia and Italy. The best are awarded medals and the title of Muscatir, a sign of supreme achievement and great reach in the unique art of muscat.
Program 2022
Friday, 11.11
17:00 - Solemn Holy Mass / Parish Church of St. Martin
18:00 - Blessing of young Muscat of Momjan / Trg Sv. Martin
18:00 - Party with Trio Refoško / Sv. Martin
19:00 - Cantada Sea Tournament/ Large tent parking lot, Trg Fontana
Saturday, 12.11
09:00 - 4x4 Offroad meeting and driving on the roads of Muscat Momjanski
11:00 a.m. - Hike along the roads of Muscat Momjanski with Muscat tasting, 12 km, start at the Dom kulture
14:00 - International Veterans Football Tournament - Adriano Smilović Memorial / playground (Brec)
15:00 - Fun musical program with the Bukaleta Band / large parking lot, Trg Fontana
15:00 - 20:00 VETRINA MUŠKATA, Dom kulture, tasting and evaluation by visitors
17:30 - Opening of the exhibition "Autumn in Momjan" by the creative group ZT Momjan and students of Edmono de Amicis elementary school, regional school Momjan / ZT Momjan
17:30 - Cake preparation competition The best bucolaji, prize giving and tasting/ ZT Momjan
Sunday, 13.11
11:00 a.m. - Cycling, MTB Momjanski marathon
12:00 - 18:00 VETRINA MUŠKATA/ House of culture, tasting and evaluation by visitors
14:00 - Meeting and exhibition of Old timer Tomos motors / next to the Cultural Center
15:00 - Concert of brass band ZT Buje / streets of Momjan
16:00 - Fun music program with the Malvazija Band / large parking lot, Trg Fontana
18:00 - Cultural and artistic program performed by ZT Momjan / ZT Momjan
Visit the Castle House, the wine road and the taverns of Momjanština,
enjoy top wines and traditional delicacies!