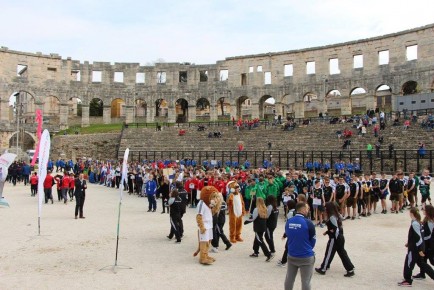 Istria Cup Komm mit - International football tournament
Istria Cup - Komm mit
This year Medulin will host again the International football tournament Istria Cup organized by Kommit. 58 teams from Belgium, Bosnia and Herzegovina, Germany, Italy, Croatia, Romania and Slovenia will compete in both the male and the female categories. Boys will take part in U9,U11,U13,U15,U17 and U19 age groups and girls in the U17 age group. 
Social values such as mutual respect, fairness and tolerance are very important in every culture and contribute to a positive development of the player´s personality. By participating, you will experience how KOMM MIT tournaments promote exactly these values.
The mix of the get-together of different cultures and the thrilling games create the unique KOMM MIT atmosphere and guarantee unique experiences for players, coaches and accompanying fans!
KOMM MIT International was founded in 1983 in Bonn (Germany) to support intercultural youth exchange, team spirit and fair play. With 35 years of experience organising youth football tournaments, each year we gather more than 25 000 participants from more than 60 different nations.