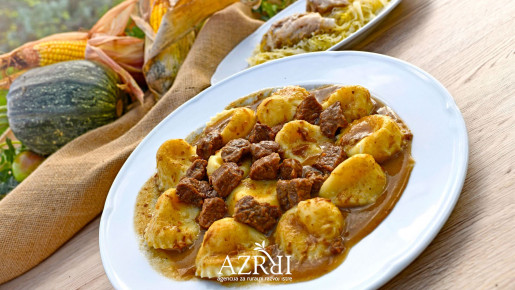 DOVAI
The stormy past of Istria has left a striking mark on local gastronomy, culture and customs, and it is precisely the manifestation Days of Open Doors to Istrian Agritourism that presents traditional Istrian cuisine through genuine experiences.
Agritourisms included in the event offer menus based on food from their own production in combination with various experiences such as visits to animals on the farm, folklore performances, live music and up to the presentation of their own products as well as products from local family farms.
Visitors can round off the entire agrotourism experience with a visit to the cycling and hiking trails and enjoy the scenery, then taste indigenous local delicacies and try a variety of additional activities, and maybe flip a balun.
Surrender to the charms of agrotourism, guardians of gastronomic tradition, enjoying various delicacies. Reserve your appointment in time to experience the Istrian gastronomic story complete with tasting the products that the land of Istria has to offer, prepared with love by agrotourism.
Event dates:
on Saturdays and/or Sundays during November
AGROTURISM CEROVAC - OPG Načinović
AGROTURISM DUŠANI - OPG Dušani
GIOVANNA ALLEGRA AGRO TOURISM - OPG Mekiš
AGROTURISM MONTIŽEL - OPG Pincin
AGROTURISM PINETA - OPG Radićanin
AGROTURIZAM SIA - OPG Cetina
AGROTURISM ŠTEFANIC - OPG Štefanić
AGROTURISM ONDINA - OPG Ondina
AGROTURISM UNDER ČRIPNJON - OPG Franjul
BURŠIĆ BURŠUTARNA STANCIJA - Buršić BURŠUTARNA STANCIJA

The aim of the open doors of Istrian agrotourism is to promote rural households and their property and Istrian gastronomy as a trademark of the rural area with the aim of growing regional importance and becoming an internationally interesting destination. By reviving and expanding the offer of indigenous dishes and products, it is slowly returning, to the great satisfaction of those who enjoy good tastes, a return to the countryside, flora and fauna and hospitable hosts.
More information soon on www.dovai.eu