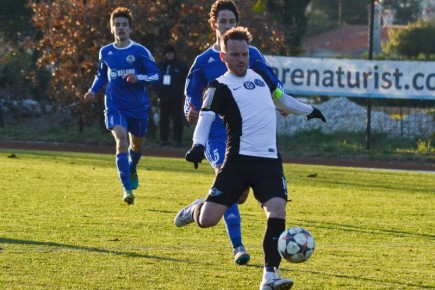 6th Arena Cup
The international football tournament is traditionally organized in Medulin on the newly renovated football fields of Park Plaza Belvedere training camp. Football teams from the highest leagues from all over Europe and Croatia are divided into two groups. The tournament is organized by Arena Hospitality Group with the collaboration of the Medulin Tourist Board.
The Park Plaza Belvedere Hotel will be the official tournament hotel and all the matches will be played at the Arena Sports Centre in Medulin. The teams will be divided in two groups: Ceja group & Finera group.
The sixth "Arena Cup (2020)" is playing from 16.01. to 26.01.2020. in Arena Sports Centre in Medulin.
The winner of sixt Arena Cup is NK GORICA(Zagreb Croatia).
Football teams on Arena Cup (2020) are :
NK INTER ZAPREŠIĆ
NK ISTRA 1961 PULA
NK GORICA ZAGREB
NK LOKOMOTIVA ZAGREB
FC KHAMGARID
OFK ŽARKOVO BEOGRAD
NK DRAVA
FC SLAVOJ
HISTORY: 
The first tournament of the "Arena Cup (2015)" involved the following teams:
Croatian: NK Istra 1961 Pula, NK Lokomotiva Zagreb, NK Belupo Koprivnica
Other countries: NK Maribor (SLO), NK Vitez (BiH), OFK Beograd (RS)
The second " Arena Cup (2016)" involved the following teams:
Croatian: NK Lokomotiva Zagreb, NK Belupo Koprivnica
Other countries: Viitorul Constanta (RUM), SC Rheindorf Altach (AT), FK Teplice (CZ) FK Koper (SLO), NK Zavrč (SLO)
The third "Arena Cup (2017)" was held from 21.01. to 31.01.2017. in Medulin and involved the following teams :
HNK Cibalia Vinkovci, FC Koper, FC Szombathelyi Haladas, NK Lokomotiva Zagreb and NK Inter Zaprešić, SKN St. Polten, NK Slaven Belupo, NK Rudar Velenje
The fourth "Arena Cup 2018" was held on 21.01. until 31.01.2018. in Medulin, and the following teams participated:
NK Lokomotiva Zagreb, NK Inter Zapresic, NK Slaven Belupo, HK Zrinjski HNK Cibalia, NK Ankaran, FK Borac, NK Aluminij
The fifth "Arena Cup 2019" was held on 17.01.2019. until 27.01.2019. in Medulin, and the following teams participated:
NK Lokomotiva Zagreb, NK Inter Zapresic, NK Slaven Belupo, 1.Sc Znaim Fk, Ofk Žarkovo Beograd, Ofk Titograd Podgorica, Fc Zaglebie Sosnowiec
 DAY 

 DATE 

 TIME 

 FIELD

 MATCH            

 RESULT 

 THURSDAY
 16.01.2020.
 11:00
 
 NK INTER - NK DRAVA
 6
 0
 THURSDAY
 16.01.2020.
 14:30
 
 NK LOKOMOTIVA ZAGREB - FC KHAMGARID
 11
 0
 FRIDAY
 17.01.2020.
 11:00
 
 NK ISTRA PULA - FC SLAVOJ
 4
 1
 FRIDAY
 17.01.2020.
 14:30
 
 NK GORICA - OFK ŽARKOVO BEOGRAD
 4
 0

SATURDAY

 18.01.2020.

 

FREE DAY 

  
 SUNDAY
 19.01.2020.
 11:00
 
 NK INTER - FC KHAMGARID
 1
 1
 SUNDAY
 19.01.2020.
 14:30
 
 NK LOKOMOTIVA ZAGREB - NK DRAVA
 4
 0
 MONDAY
 20.01.2020.
 11:00
 
 NK ISTRA PULA - OFK ŽARKOVO BEOGRAD
 1
 0
 MONDAY
 20.01.2020.
 14:30
 
 NK GORICA - FC SLAVOJ
 1
 1

 TUESDAY

 21.01.2020.

 

FREE DAY 

 
 WEDNESDAY
 22.01.2020.
 11:00
 
 NK DRAVA - FC KHAMGARID
 3
 0
 WEDNESDAY
 22.01.2020.
 14:30
 
 NK INTER - NK LOKOMOTIVA ZAGREB
 1
 0
 THURSDAY
 23.01.2020.
 11:00
 
 FC SLAVOJ - OFK ŽARKOVO BEOGRAD
 1
 1
 THURSDAY
 23.01.2020.
 14:30
 
 NK ISTRA PULA - NK GORICA
 1
 1

 FRIDAY

 24.01.2020.

 

FREE DAY 

 
 SATURDAY
 25.01.2020.
 11:00 7th
 
 OFK ŽARKOVO – FC KHANGARID
 5
 0
 SATURDAY
 25.01.2020.
 11:00 5th
 
 FC SLAVOJ – NK DRAVA
 1
 2
 SUNDAY
 26.01.2020.
 11:00 3rd
 
 NK ISTRA 1961 – NK LOKOMOTIVA
 1
 3
 SUNDAY
 26.01.2020.
 14:00 1st
 
 NK INTER ZAPREŠIĆ – NK GORICA 
 0
 1