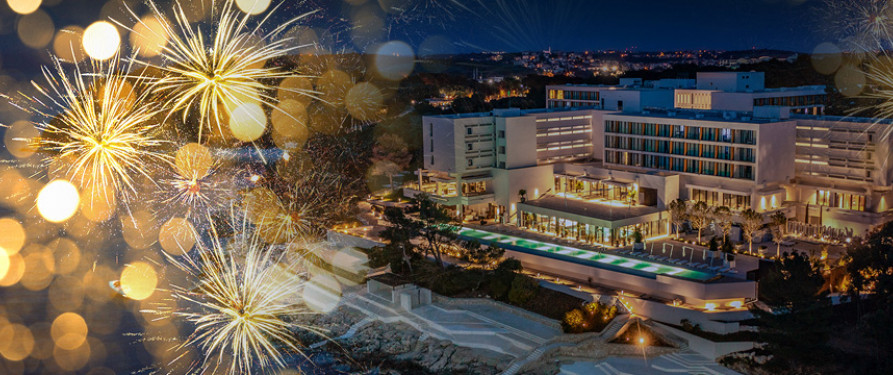 Special offers
Sparkling nights: New Year Countdown In Style
New Year's Eve celebration
Sparkling nights: New Year Countdown In Style
The Grand Hotel Brioni Pula, A Radisson Collection Hotel promises an unforgettable New Year's Eve celebration, combining luxury and festivities for an memorable stay. Enjoy 2 or 3 nights in opulent accommodation with half bord with early check-in and late check-out for the ultimate relaxation.
Your room welcomes you with a special gift. Start your day with a refreshing Coffee & Tea set in your room, replenished daily for moments of relaxation. Every detail of your stay is designed with care for your enjoyment.
Relax unlimited in our Wellness & Spa. When the sun goes down, you can join the Sundown Soirée, a happy hour with cocktails, mulled wine and DJ Waves & Soul.
Enjoy the Taste Temptations buffet for dinner and the Morning Flavours buffet for breakfast. Throughout the day, spoil yourself with Salty & Sweet Delights. Relax with a late-night Spa Escape.
Discover Istria's flavours with local tastings, entertain the kids with Funwork and explore the lights of Pula on a guided tour. Pamper yourself with yoga and dive into the wonders of the underwater world with SeaWorld Safari.
Say goodbye to the old year at Sunshine New Year, and indulge in a gala New Year's Eve dinner. Continue the celebrations at our New Year party with DJ Roza. Welcome the 1st of January with a New Year brunch and a soothing concert.
Forum Restaurant New Year Menu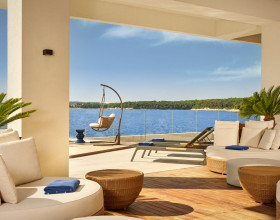 View Gallery
A brand-new premium beachfront hotel surrounded by Mediterranean greenery and close to the ancient city of Pula featuring modern luxury design, a variety of facilities and panoramic views of the Adriatic Sea.
Terms & Conditions:
Offer is valid for a minimum length of stay of 2 nights. 
Offer not applicable to groups or with other special offers.
Best Online Rate Guaranteed
Best Online Rate Guaranteed
On arenahotels.com, you will get the best rate online - we guarantee it. When you book your reservation on arenahotels.com, you can be confident you've received the best rate for your next visit. Some travel sites charge an additional fee to book online. When you book directly with us at arenahotels.com, you'll never pay a booking fee!
If you find a rate on another website that is lower than the best rate on arenahotels.com - and the rate is for the same date(s), same room type, same number of guests, at the same hotel and same rate terms or restrictions - let us know and we will honor the lower rate and discount that rate by 5%.
Arena Hotels "Best Online Rate Guarantee" applies only to online rates available to the general public. Group rates, corporate rates, wholesale rates, affinity/association rates which are part of a travel package do not qualify.
Customer Service will verify the rate meets all of the Best Online Rate Guarantee terms and conditions. Once confirmed you will receive the lower rate and 5% discount. Email us at  [email protected]
Secure Booking & Payment
Secure Booking & Payment
For each reservation through arenahotels.com, we guarantee the best online rate. No payment needed at time of booking. Your card is needed to guarantee your booking as you'll pay during your stay. For some special offers advance payment might be needed – for more info check the sales policy of the selected rate plan.
Why Arena Hotels?
Why Arena Hotels?
lowest rate guaranteed
no hidden booking fees
no cancellation fees
secure online payment
exclusive internet deals
tailor-made holidays
more than 40 years of experience
24/7 service
customer satisfaction guaranteed